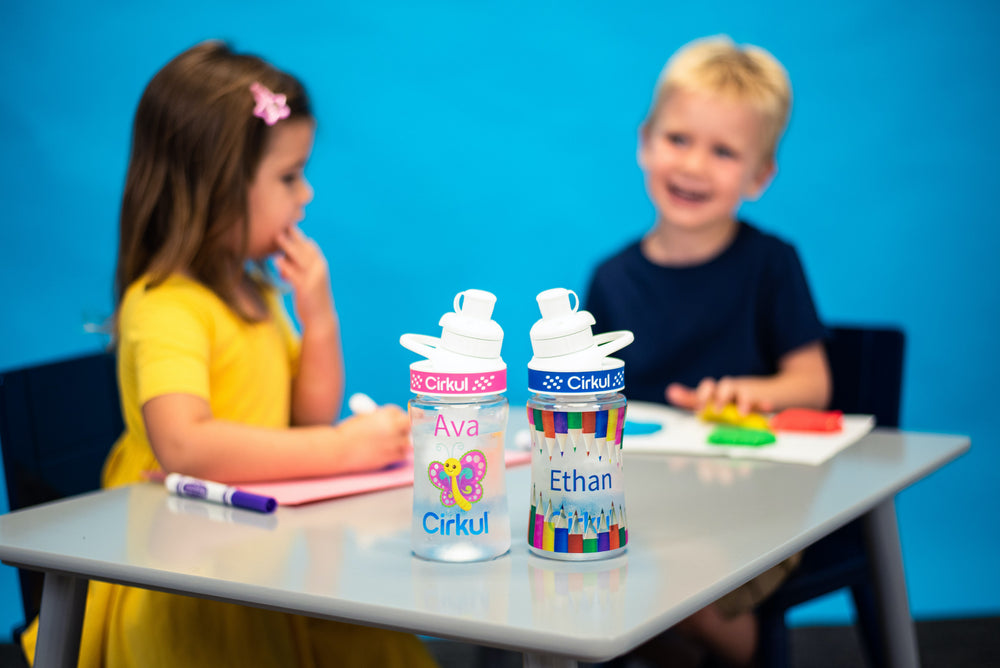 Keeping your Kids Hydrated with Cirkul
Posted on August 11, 2020
Back to school may look a bit different this year, but one thing remains the same, your kids need to stay happily hydrated. Whether classes are on campus or online, healthy kids need to drink sufficient water to perform their best and savvy moms and dads know Cirkul is the easiest way to get an A+ in hydration.
Let your clever student select the color lid and Chill Sleeve they want for their Plastic Bottle. Cirkul lids come in nine colors and Chill Sleeves come in 12 colors! Letting them choose what they like will make them more excited to carry their bottle and use it throughout the day.
Offer a selection of flavorful Cirkul cartridges so they can pick their favorites. There are six flavor categories available, but you may want to try the LifeSips with added B Vitamins, and the FitSips with added electrolytes. Top Rated Kid Favorites include LifeSips in Fruit Punch, Peach Mango, Watermelon, and Strawberry Kiwi and FitSips in Mixed Berry, Orange Tangerine, and White Cherry. These flavors are sugar free, have all-natural flavors, no caffeine, and zero calories.
Whether at home or school, the flavor won't get watered down even with ice! Cirkul flavors the water as they drink so each taste is fresh and just right! A quick visit to the water cooler for a fill up and your kiddo is ready to enjoy another bottle full of delicious and hydrating flavor. Each Cirkul Sip gives about 6 fill ups on a medium setting so tasty water all day long is a breeze!
Water needs vary depending on your child's age and activity level. Children 1 to 3 years-old should drink about 4 cups of water per day. Children from 4 to 8 years-old should drink about 5 cups per day. Children from 9 to 13 years-old should aim for 7-8 cups of water per day. Teens from 14 to 18 years-old should drink 8-11 cups per day.
Remember, active kids need more hydration so be sure to encourage them to grab their Cirkul bottle when heading to soccer, dance, or bike riding. When it's hot outside, be sure they hydrate before heading out, while they are out, and after they return. It's important to keep drinking water while playing in the heat. As a guideline, encourage at least 4 ounces of fluid every 15-20 minutes, or whenever there's a break or time-out. Help your kids hydrate even more by serving them water rich foods like cucumber, watermelon, lettuce, grapes, peaches, and oranges.
Teachers (and parents alike) love that the bottle only contains water and the flavors have no artificial dyes so there's no worry about any messy spills. The Cirkul system is easy to use and kids can change up their flavors throughout the day if they'd like. No need to add messy powders or drops. The Sip Safe is a great way to carry a spare flavor on the go and fits easily into their backpack.
Cirkul can't help with their math or vocab homework but can help with hydration so those young brains can accomplish all their big goals. Check out your Custom Mini Bottle and Custom Plastic Bottle options at drinkcirkul.com/products. They are perfect for school days and will ensure your student is at the top of their class when it comes to healthy hydration.