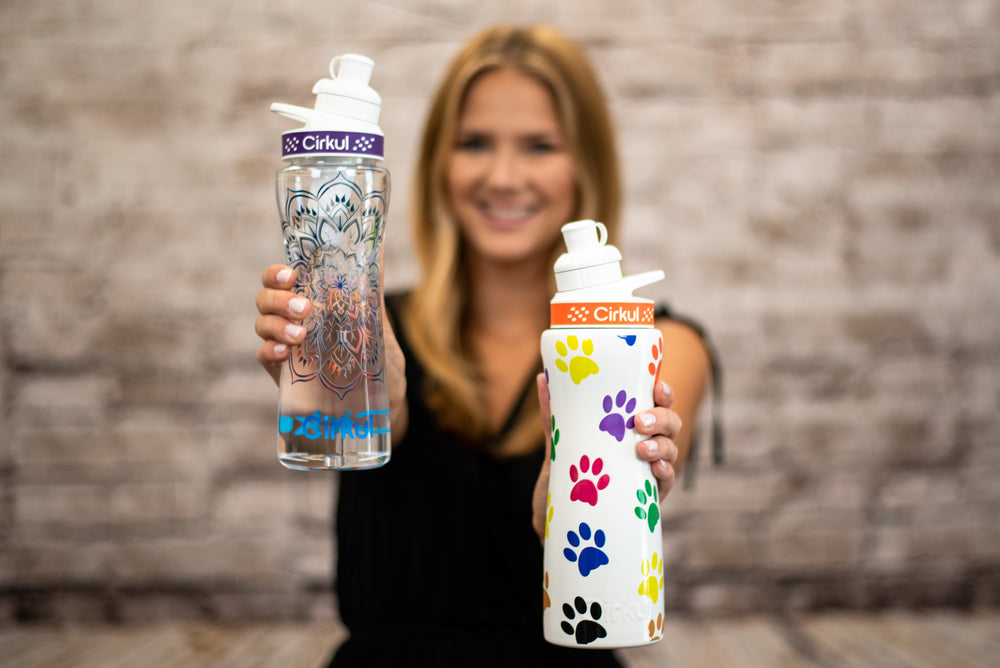 "How To" Order a Cirkul Custom Stainless-Steel Bottle
Posted on August 21, 2020
Cirkul doesn't believe hydration is a one size fits all experience, your flavors are unique and your bottle can be too! You can customize your Cirkul bottle to ensure it is a one-of-a-kind masterpiece and eliminate the possibility of the very common, dreadful, bottle mix-up. With a Custom Bottle everyone will KNOW it's your Cirkul Bottle.
How are Cirkul Custom Bottles Made?
Your Custom Cirkul Bottle is created in-house here at Cirkul, printed by a digital cylinder printer that delivers superior quality full-color designs, images, and texts. The design is then topped with a gloss effect that amplifies every color in your design making it really stand out.
Which Bottles Can Be Customized?
The three Cirkul Bottles that are available for customization are the 22-ounce Stainless Steel Bottle ($40), the 22-ounce Plastic Bottle ($25), and the 12-ounce Plastic Mini Bottle ($22).
Can I Customize the Bottle Myself?
You sure can! If you're ready to create your very own custom bottle head to the products page at drinkcirkul.com/products and scroll down to the Custom Bottles to get started! There are dozens of premade templates waiting for you to customize with your name, photo or text.
Can You Help Make Sure It's Perfect?
Of course! Email design@drinkcirkul.com and chat with our in-house designers so they can make sure your Custom Bottle is exactly what you want.
How Long Until It Arrives?
You've created a masterpiece and now you can't wait to receive it! Custom Cirkul Bottles generally take about two weeks to prepare and print. When your bottle is ready to ship, you'll receive an email with tracking info.
My Custom Bottle is Here! Now what?
Prior to using your new work of art, rinse the inside with warm water and a mild dish soap. We do advise not to use strong dish soaps or abrasive sponges on the printed surface of the bottle itself. Also, please do not wash your custom bottle in the dishwasher. Keep your new bottle stored at room temperature or in the fridge when not in use. You can clean the bottle as frequently as you do your normal bottles. We know you'll be taking your bottle everywhere, so some inclement heat or cold is fine for the bottle, but the paint could see some damage if you leave it in the harsh elements for an extended period of time.
Share With Us!
We want to see your design! When you're using your new bottle, don't forget to show off your custom creation with the Cirkul community over on our Facebook or Instagram @drinkcirkul #DrinkCirkul!