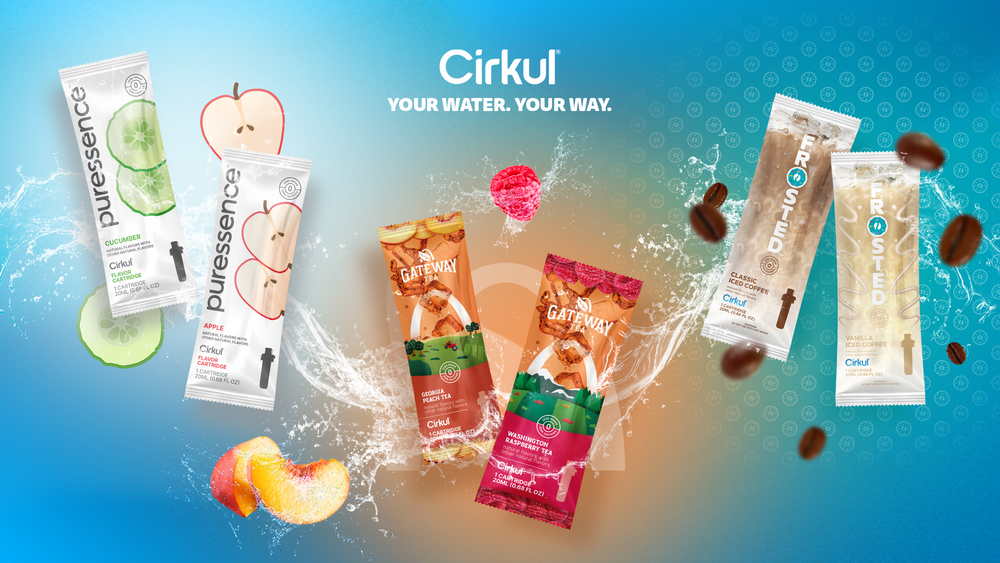 A Fresh New Look for Cirkul Favorites!
Posted on September 02, 2022
Tasty hydration has never been so convenient and delicious. And, while some say change is hard, at Cirkul, it's just another day! Four years ago, Cirkul launched three flavor lines with a total of eight flavors: 
LifeSips – Fruit Punch, Sweet Tea with Lemon, Coconut Pineapple, and Raspberry Lemonade
FitSips – Mixed Berry and Orange Tangerine
GoSips – Black Cherry and Strawberry Watermelon 
Over time, eight new flavors were added to the LifeSip line, three electrolyte flavors were added to the FitSip line, and six energy flavors were added to the GoSip line. 
Sipsters were thirsty for more, so over the next year, three new lines were added, PureSips, TeaSips, and BrewSips. These lines each have their own special taste, ingredients, and benefits and now, to better convey what each of these lines offer, Cirkul is reintroducing them with new names and iconic packaging to make it easier than ever to pick your favorite Sips. Don't worry, the same great taste you love will be waiting for you at the turn of your dial! 
Puressence (formerly PureSips) delivers an unsweetened touch of fruit flavor to give your water a subtle yet delicious spin. Puressence adds a hint of fruit to the refreshing taste of your water leaving you refreshed and hydrated all day. 
With just a hint of fruit essence to elevate your water check out Apple, Peach, Pineapple, Lemon, Raspberry, Cucumber, Pear, and Tangerine.
Gateway Tea (formerly TeaSips) brings you refreshing iced tea no matter the day. These blends bring a world full of flavor to every sip, inspired by heritage and served up in the modern world's most convenient way to stay hydrated. At the 1904 World's Fair, iced tea was first introduced and today, the classic refresher takes on new life with the Cirkul System so you can dial in the exact amount of flavor you need to pick you up, cool you down, or just power you through your next big adventure.
The first flavors to launch, Georgia Peach and Washington Raspberry, will have you happily hydrating from sea to shining sea.
Frosted (formerly BrewSips) is your favorite sweet treat that is just a sip away. Instead of waiting in a long line to pick up your favorite iced-coffee blend, your Frosted iced-coffee will pick you up! The caffeinated boost is your delicious secret to navigating the day with style and with the turn of the dial, you will enjoy your very own custom blend.
Choose between Classic, Vanilla, Caramel, or Mocha blends and sip your way to zero calories, zero sugar iced-coffee contentment.
Check out all the fun at
DrinkCirkul.com
and be among the first to score your Puressence, Gateway Tea, and Frosted flavors!