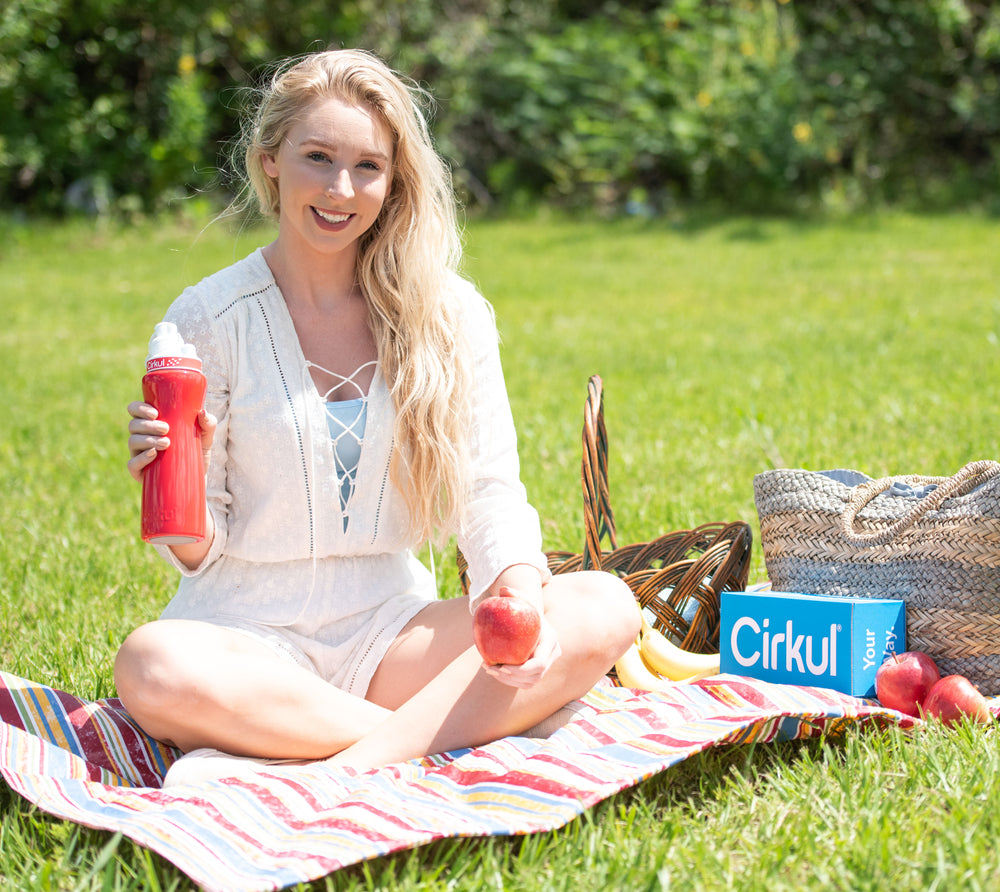 Hydration's a Picnic with Cirkul
Posted on August 12, 2019
"I'm doing it! I'm drinking more water, and I feel great!"
That's the number one comment heard from Cirkul customers. The Cirkul solution is not only a healthy way to hydrate, but maybe most importantly for your busy schedule, an easy way to hydrate. In this go-go-go world, Cirkul is an easy and convenient way to achieve your goals, make your life easier, your mind clearer, and your body healthier, all through one simple thing: hydration that moves with you!
Cirkul Sips let you enjoy all that water you're taking in and makes it easy too! What's the secret? Well, they're delicious. You just pop a Sip into your bottle, and suddenly, flavored water is at your fingertips. Oh, and the flavor level is totally customizable. Maybe it's a Monday morning, and you're not ready to hit the ground running with the full flavor blast potential of your Sip. Easy! Sips have a simple to adjust flavor dial, so you can turn it down when you want crisp, pure water, and amp up the volume Friday afternoon when you need that flavor boost to get you through to the weekend. Plus, you'll be going into the weekend in high-style with our fashionable variety of color options, one for each day of the week - and then some!
Not feeling like drinking Fruit Punch today? You don't have to worry about that either! Dip into your pantry of Sips, pull out that Coconut Pineapple Sip you've been dreaming of, and swap them right out. You can set your Fruit Punch aside and return to it tomorrow when you're feeling...well, punchier. (Your time will come, Fruit Punch. Rest now.)
The best thing about Cirkul is that the service is something you don't even need to think about. Long gone are the days when you had to heave bulky cases of flavored beverages from the shelf, to your cart, to your car, to your house, and then try to find space in the fridge for everyone's selections. Sips are delivered right to your mailbox or doorstep, on schedule, every month. Cirkul sends email reminders when it's time to update your subscription, and from there, you have control of everything, from the flavors that come to you, to what date they're shipped.
The sink full of dirty glasses and bottles that accumulate when you use flavor packets? Say bye! Thanks to the unique design, only regular water is ever contained in the chamber of the bottle, so you are free and clear to skip dish day for your Cirkul bottle!
So, go ahead with your busy life and stay effortlessly hydrated while you conquer the day. With Cirkul by your side getting hydrated is a picnic... besides, all that water looks great on you!