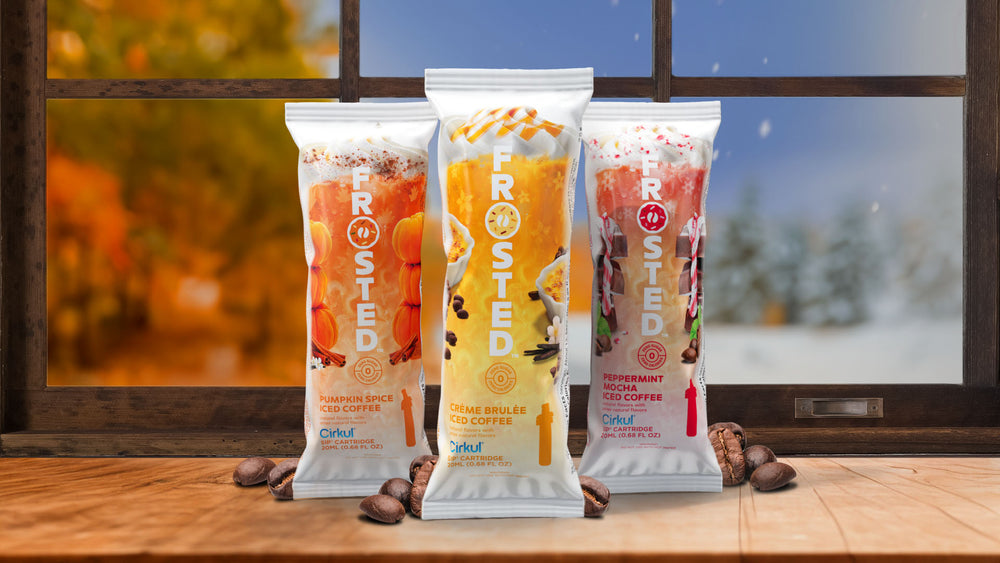 The Delights You Can't Resist!
Posted on October 18, 2023
There's something undeniably magical about the arrival of fall as the leaves turn golden and the air grows crisp. It's a season that makes you want to cozy up, indulge in comforting flavors, and savor the small joys of life. There's no better way to embrace the spirit of this season than by adding a touch of fall to your daily hydration with Cirkul's Seasonal Frosted Sips: Frosted Crème Brulée Iced Coffee, Peppermint Mocha Iced Coffee, and Pumpkin Spice Iced Coffee! 
Frosted Crème Brulée Iced Coffee
Imagine a rich, creamy blend of coffee flavor with hints of caramelized sugar and reminiscent of the beloved crème brûlée dessert. Now, you can sip on this delightful treat throughout the day to keep yourself refreshed and energized. Frosted Crème Brulée Iced Coffee is not just a drink; it's a daily indulgence, a touch of luxury that makes every sip a moment to savor.
Peppermint Mocha Iced Coffee
For those who adore the irresistible pairing of mint and chocolate, Frosted Peppermint Mocha Iced Coffee is the go-to fall choice. This tasty flavor is a delightful blend of rich coffee, creamy chocolate, and a hint of peppermint flavors. It's like having a cozy coffee shop experience right in the comfort of your own home.
Pumpkin Spice Iced Coffee
The fall flavor lineup is only complete with the addition of Pumpkin Spice Iced Coffee. Whether you're a devoted pumpkin spice enthusiast or new to this timeless trend, this flavor was made for fall. Each sip will transport you to a pumpkin patch on a crisp autumn day.
Thanks to these three
Frosted Seasonal Sips
, you can elevate your daily hydration routine with the enchanting flavors of fall. Whether you're sipping on the decadent Crème Brulée, the delectable Peppermint Mocha, or the classic Pumpkin Spice, each sip becomes an experience to cherish. Cheers to a season filled with warmth, spice, and hydration!